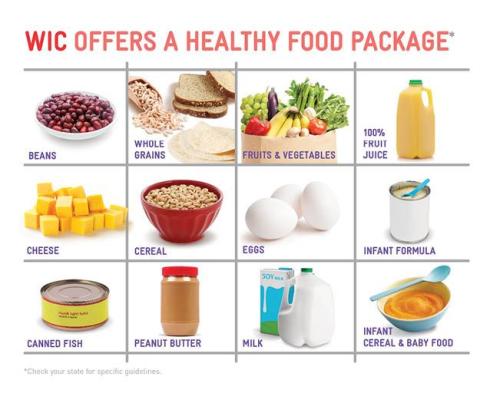 The WIC Program cares about you and your family. Please share your feedback, experiences at the store, or let us know if you need additional help shopping with WIC. Just click the button below to leave information or to request a phone call from WIC staff.
Shopping with eWIC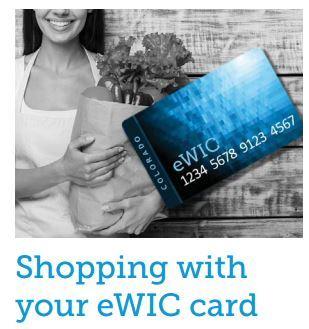 Shopping with the eWIC card makes shopping quick, easy and convenient The eWIC card offers these benefits:
One card holds the entire families benefits.
Cards can be loaded remotely without an office visit.
Self-checkout can be used at King Soopers, Safeway and Walmart stores.
Make a shopping list before going to make your trip faster.

View this 

slide show

with tips to make eWIC Shopping easier (

Español

)
eWIC Card PIN Numbers
PIN numbers can be set or reset by:
Calling the automated phone line at 1-844-234-4950.
Log onto www.ebtedge.com and enter in your 16 digit eWIC card number.
Call your local WIC office (listed a the right) to reset your PIN or if you have questions.
Food Benefit Balance
There are many ways to find out what your monthly balance is on your eWIC card:
Download the WICShopper app, register your eWIC card and click the My Benefits button for your most current balance.
Keep your receipt from your last WIC purchase which includes an updated balance.
Check your current and future months food balance at www.ebtedge.com.
Call 1-844-234-4950
Ask a grocery store cashier to check your balance for you.
Shopping with eWIC Videos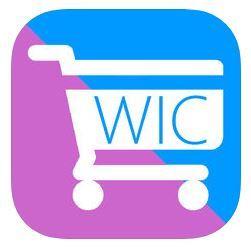 WICShopper App
Colorado WIC offers the FREE WICShopper app to help families manage their WIC benefits. The WICShopper app has many great features including:
A scanner to aid in selecting WIC foods.
Your current balance of foods loaded onto your card.  
The WIC Foods list in a variety of languages.
Recipes.
Quick access to WIChealth.org online nutrition information.
Ability to set-up reminders to shop before benefits expire each month.
Learn about the WICShopper app and download from the app store on any smart cell phone.
Foods & Recipes
WIC Foods
Foods on the WIC Program are wholesome and chosen to provide the nutrients your family members need.
Recipes and More
WIC provides nutrition education as well as delicious recipes with WIC foods.
WIC Approved Grocery Stores
A variety of grocery stores accept WIC benefits, ask your WIC staff for locations near you.
View a list of participating stores on the WICShopper app
Ask your local grocery store clerks if they accept WIC benefits if you are unsure.
Many WIC approved stores use shelf stickers to help shoppers find their WIC foods easily.
The self check-out lanes can be used at King Soopers, City Market and Walmart grocery stores.
Participating grocery stores will post a WIC decal on their front window or door (see picture below).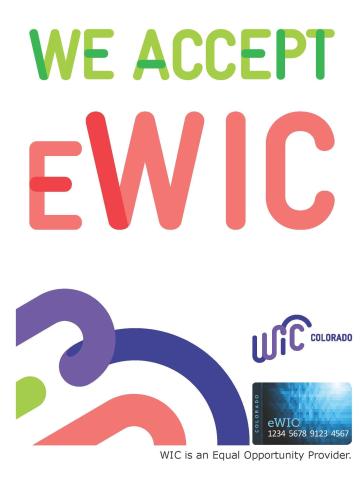 WIC Services
Hours
Monday - Friday
8 a.m. to 5 p.m.
Days and hours may vary by location
Locations
Bennett**
Fully Remote Services
303.439.5990
Fax: 720.358.9574
Brighton
30 South 20th Avenue, Suites F/G
Brighton, CO 80601
303.659.2335
Fax: 303.659.6090
Commerce City
7190 Colorado Blvd., Suite 200
Commerce City, CO 80022
303.439.5990
Fax: 720.358.9574
North Broadway
7000 N. Broadway Number 400
Denver, CO 80221
303.426.5232
Fax: 303,426,5335 
Westminster
1401 W. 122nd Ave. Number 200
Westminster, CO 80234
303.255.6254
Fax: 303.452.9712 
**Temporarily closed to the public or do not have WIC Staff onsite due to the pandemic.