Healthy Homes
Your home is a very important environment where you and your family may spend much of your time. You may be wondering if your home is making you or your family sick. There are steps you can take to ensure your home is a healthy place to live. Our Environmental Health staff can provide guidance and education on how to resolve potential health issues that can occur in and around the home. However, please be aware that we have limited or no legal authority over private homes including rental properties so we may not be able to make an owner or landlord fix a problem.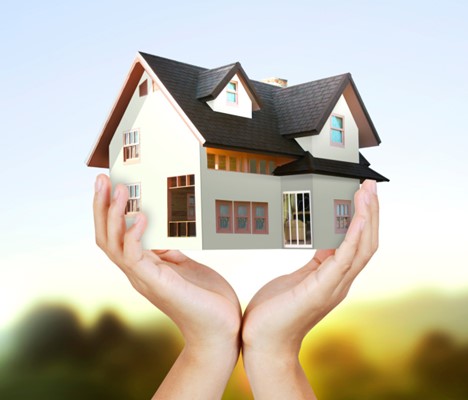 Test Your Home for Radon
Radon is an invisible, radioactive gas created from the breakdown of natural deposits of uranium in the soil, rock, and water.
Radon is easily drawn into homes through cracks and gaps in the foundation and can reach concentrations that increase the risk of developing lung cancer.
Protect You and Your Family by Ordering a Radon Test Kit
Radon testing is the first vital step to reducing the dangers of radon in your home. Radon testing should be easy and affordable. In recognition of January as National Radon Action Month, order a free radon test kit from Adams County Health Department. Every home should be tested for radon in the lowest level of the home, even if it's an unfinished area. Do not test areas which are not frequently used, like a crawl space or utility closet.  Testing can be done with either a short-term test lasting 2-5 days or a long-term test lasting 91 days to one year.  
Fill out this form and a free kit will be mailed to your home with user instructions. 
If you would like to  purchase a long term test kit, order a discounted kit from the National Radon Program at Kansas State University. You can also get a radon kit at your local home improvement store or online.
Radon levels are high in Colorado
Data collected by the Colorado Department of Public Health and Environment (CDPHE) indicates that approximately 50% of homes in Colorado have radon levels higher than the U.S. Environmental Protection Agency (EPA) recommended action level of 4 picocuries per liter of air (pCi/L). Radon levels can be high in all homes regardless of age or foundation type. 
Radon is the second leading cause of lung cancer in the U.S. Unfortunately, about 50% of homes in Colorado have high Radon levels. A high radon level is any level above a 4 pCi/L measurement, made by an at-home test-kit or a continuous radon monitor. The only way to know if your home has high levels of radon is to test! 
Testing for Radon
Every home should be tested for radon in the lowest livable level of the home, even if it's an unfinished area. Testing can be done with either a short-term test lasting 2-5 days or a long-term test lasting 91 days to one year. Test kits can be purchased online. 
Mitigating Radon 
If short-term test results are less than 4pCi/L, the EPA does not recommend any immediate action; however, you may consider confirming the results with a long-term test. If a short-term test result is 4pCi/L or higher, a second test is recommended. This test can be short or long-term. 
If the results of the second test are still at or above 4pCi/L, mitigation would be recommended. Get help finding mitigation professionals in your area.
Low Income Radon Mitigation Assistance (LIRMA) Program
The Colorado Department of Public Health and Environment is now assisting low-income residents with funds of up to $1,500 for radon mitigation systems. This funding is limited and requires residents to own the home and carry proof of ownership. Complete the state's application to the program along with conditions, instructions, and requirements.
Radon Resistant New Construction (RRNC)
Some home builders offer their homes to be built with a passive radon mitigation system, otherwise known as RRNC. This passive radon mitigation system vents the air from under the home to above the eave of the roof using a pipe that is hidden in the walls of the home. This offers the advantage of a radon mitigation system while hiding all of the components. 
Homes built with RRNC should still be tested, and if radon levels are high, a fan can be installed in the attic. The addition of a fan turns a passive system into an active system, further reducing radon levels.
Radon in Water
Radon can dissolve in groundwater and be released into the air of a home when used for showers, laundry, and other purposes. Radon in water is not widespread and is primarily an issue in homes with water supplies from private wells that use groundwater. 
The main concern is not with the drinking water, but rather with the increased amount of radon added into the indoor air in addition to the radon coming from the soil. A radon-in-air test will measure this contribution if the house is occupied during testing.
Prevent Lead Poisoning 
Watch the YouTube Lead Exposure video in English or Spanish
There is no safe level of lead for human health. It can affect almost every organ and system, but the main concern is the nervous system. When absorbed into the body, it can result in damage to the brain and nervous system, learning and behavior problems, slow growth and development, and hearing and speech problems. 
Children 3 years old and younger and pregnant people are at the highest risk of health impacts from lead. 
Symptoms of Lead Poisoning
Children with lead poisoning may not look or act sick. Sometimes symptoms may be mistaken for other illnesses. Possible signs of lead poisoning include fatigue or loss of energy, poor appetite, hyperactivity, weight loss, irritability or crankiness, difficulty sleeping, reduced attention span, and constipation or stomach aches. 
If you are concerned your child may have lead poisoning, contact their primary care provider to schedule a test. If your child has a confirmed blood lead level greater than or equal to 3.5 µg/dL, we will provide a free home investigation. Contact our public health industrial hygienist at 720-435-3490 for more information.
Common Sources of Lead
Lead can be found in our environment, including our home. Common sources of lead in our homes include:
Paint

Dust

Drinking water

Soil

Certain jobs and hobbies

Household items and imported goods
If renting, ask your landlord to have your home or apartment tested. Lead can also be found in drinking water. The most common sources of lead in drinking water are lead pipes, faucets, and fixtures. 
Five Ways to Lower Your Child's Risk of Lead Poisoning 
Lead poisoning is preventable. The key is preventing children from coming into contact with lead. 
Make a plan 

with your healthcare provider

A blood test is the best and most readily available way to determine if your child has been exposed to lead. 

Most children with lead in their blood have no obvious symptoms.

Find the lead in your home

 by having your home inspected by a licensed lead inspector

Most children get lead poisoning from lead paint in homes built before 1978. It is important to find and fix lead in your home as soon as possible. 

Don't remodel or renovate until your home has been inspected for lead.

Home repairs like sanding or scraping paint can make dangerous lead dust. 

Clean up

 lead dus

t to prevent children from swallowing dust on their hands or toys

When old paint cracks and peels, it makes lead dust. Lead dust is so small you cannot see it. 

Use wet paper towels to clean up lead dust and clean around windows, play areas, and floors.

Wash hands and toys often with soap and water. 

Always wash your hands before eating and sleeping.

Use contact paper or duct tape to cover chipping or peeling paint.

Give your child healthy foods 

that may help keep lead out of the body, such as food rich in 

calcium, iron, and vitamin C.

Calcium is in milk, yogurt, cheese, and green leafy vegetables like spinach. Iron is in lean red meats, beans, peanut butter, and cereals.

Vitamin C is in oranges, green and red peppers, and juice.

Learn more

 about preventing lead poisoning 
Meth Lab Cleanup Consultation
Illegal methamphetamine home laboratories (meth labs) have been a problem throughout Colorado. Meth production contaminates surfaces, drains, ventilation systems and furnishings with hazardous chemicals. Residual toxins may pose serious health threats to persons exposed to the meth lab environment and to discarded materials.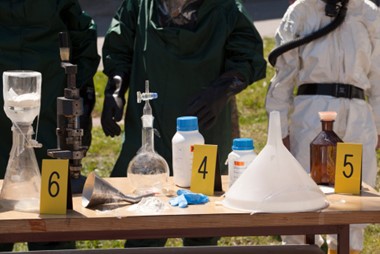 In the past, the majority of illegal meth labs were reported by law enforcement following busts. In recent years, meth labs have been increasingly reported during real estate transactions either by a potential home buyer, seller or real estate agent.
In 2009, Senate Bill 09-060 (PDF) was enacted to expand the definition of illegal drug laboratory. As a result many more properties are being reported.
The Colorado Regulations pertaining to the clean up of methamphetamine labs (CCR 1014-3) have been revised with an effective date of December 14, 2014. Individuals and companies involved in meth lab assessment, sampling, and decontamination are now required to attend and complete approved training and certification requirements.
Certified contractors performing cleanup activities must be properly trained. Post-cleanup sample results must meet the state cleanup standard of less than or equal to 0.5 ug/100cm². A final clearance sampling is conducted by Tri-County Health Department prior to allowing re-occupancy.
Resources