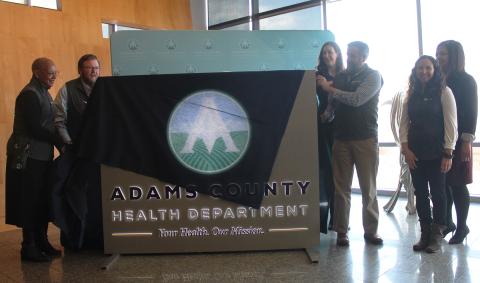 Posted on: January 24, 2023
Commemorates Occasion with Grand Opening Ceremony
The Adams County Health Department (ACHD) is proud to announce the official launch and grand opening ceremony of the county's first ever health department. This new department is responsible for promoting and protecting the health of all residents in Adams County through a variety of programs and services, and believes the successful pursuit of public health requires an understanding of community and a shared future.
"Building a Health Department from the ground up is a monumental task, but with the dedication and hard work of our team, we were able to accomplish it in just nine months," said County Manager Noel Bernal. "It required diligent planning, strong leadership, and a relentless focus on our collective goal: onboarding nearly 200 employees, launching five locations, and investing in this new department through a $27 million budget. This herculean undertaking is a testament to our commitment and to providing quality public health services for our community."
ACHD will focus on a wide range of public health issues, including social determinants of health, disease prevention and control, maternal and child health, mental and behavioral health, food access, and environmental health. The department will also work closely with community partners to address specific health concerns and improve overall health outcomes for residents.
ACHD will also provide a variety of clinical services—either at low- or no-cost to the community—including, but not limited to, immunizations; chronic disease prevention; Women Infants and Children (WIC) and enrollment providing free food to women and their children who may not be able to afford groceries; nurse home visits for families; and increased testing availability for HIV and Hepatitis C. In addition, sexual health services such as family planning and sexually transmitted infection (STI) treatment and testing services will also be available.
"Investing in public health is not just a moral imperative, it is an investment in the future of our society," said Executive Director Dr. Kelly Weidenbach. "We are excited to launch this new department and are confident it will have a positive impact on the health and well-being of our residents for decades to come."
Lastly, the health department is aiming to address components of population health where we may have lost ground during the COVID-19 pandemic or where there were existing inequities that were illuminated, such as health outcomes related to mental and behavioral health, substance abuse and overdose prevention, food access, and access to healthcare.
Adams County is also extremely diverse in geography and community demographics, including a majority-minority with 51% of its population being Hispanic/Latino, and the health department plans to address determinants of health that promote good health and reduce inequities impacting these diverse populations.
---